Cundill Prize in Historical Literature Shortlist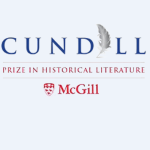 I'm delighted to announce that The Invention of Science is included on the 3-author shortlist for the Cundill Prize in Historical Literature 2016.
Administered by Montreal's McGill University, the Cundill Prize recognizes outstanding works of non-fiction that are grounded in scholarly research while retaining wide appeal and interest to the general public. The prize is offered each year to an individual who has published a book in English determined to have had, or likely to have, a profound literary, social and intellectual impact.